Acronis Monitoring Service

SaaS-based unified monitoring for cloud, on-premise, and hybrid infrastructures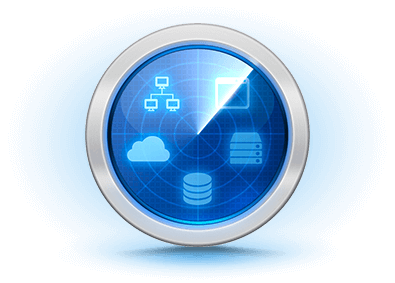 Acronis Products
Acronis Monitoring Service Subscription
Acronis Monitoring Service Subscription 1 Year 1-9
*Price per user
#MOAASYLOS11
Our Price: $100.00
Acronis Monitoring Service Subscription 1 Year 10-29
*Price per user. Quantity must be 10 or greater
#MOAASYLOS12
Our Price: $92.00
Acronis Monitoring Service Subscription 1 Year 30-49
*Price per user. Quantity must be 30 or greater
#MOAASYLOS13
Our Price: $85.00
Click here to jump to more pricing!
Overview:
Start monitoring servers, networks, applications, websites, and services in minutes
Acronis Monitoring Service is a SaaS-based unified monitoring solution for cloud, on-premise, and hybrid infrastructures. It provides you with everything you need to ensure critical systems are up and running and get insights into performance of your IT stacks via both internal (behind the firewall) and external (via the worldwide polling network) monitoring.
Robust, yet easy-to-use and affordable, Acronis Monitoring Service enables you to start tracking IT systems' metrics in minutes with no training or complicated setups, receive customizable alerts in case of problems, and analyze historical and real-time data to identify performance optimization opportunities.
Why use Acronis Monitoring Service?
Configure full IT stack monitoring in minutes with no training or complicated setups
Be alerted instantly to problems so you can identify and resolve issues before they impact your users
Minimize maintenance complexity of a monitoring system and total cost of ownership
Quickly identify performance and availability problems for effective troubleshooting
Get a single-pane-of-glass view of the health of an entire on-premise, cloud-based or hybrid infrastructure
Make smarter IT decisions by analyzing historical and real-time data
Acronis Monitoring Service is a perfect fit for
Business owners
Downtime costs money and reputation - ensure your clients have a high quality experience 24*7 and proactively prevent problems.
IT admins
Setting up and maintaining a traditional monitoring system is hard - minimize complexity by deploying a modern unified monitoring in minutes.
IT directors
You are in charge of your company's IT Infrastructure - ensure all critical IT systems are up, delegate responsibilities, and get an eagle's-eye view of an entire infrastructure.
Features:
Quick and seamless wizard-driven setup
Configure monitoring of critical IT systems' metrics in minutes with no training required.
Unified monitoring
A single-pane-of-glass monitoring for servers, operating systems, software, networks, and websites.
Alerts in case of problems via email, SMS or voice call
Receive customizable alerts based on incident severity, component dependencies, thresholds, team roles or responsibilities.
On-premise, cloud and hybrid infrastructures monitoring
An in-house server or network, a private cloud, or a public cloud infrastructure served by an IaaS provider like AWS, Microsoft Azure, Rackspace or DigitalOcean, Acronis Monitoring Service works with all of them.
Centralized monitoring
Monitor multiple data centers in different geographical locations from a single dashboard.
Both external and internal monitoring
Easily configure both external (via the Acronis' worldwide polling network) and internal (behind the firewall, inside your data center) checks within local area network (LAN) or wide area network (WAN).
Server and OS monitoring
Track important operating system metrics like
CPU usage, CPU load, RAM, free disk space, disk usage, swap usage.
Quick and easy agents' installation
Set up server monitoring by simply running a single shell command or through a standard Windows installer wizard.
S.M.A.R.T. drives
Monitor S.M.A.R.T. drive's health status and performance attributes.
Website monitoring
Full page load monitoring
Monitor the time it takes for all the page elements (images, CSS, JavaScript, and so on) to load from different parts of the world.
Website uptime monitoring
Monitor availability at predefined time intervals to ensure your website is up 24*7*365 for all your visitors.
Response time monitoring
Constantly check how long it takes for your site to respond helps you ensure that your visitors have a consistently rewarding experience.
SSL/TLS Certificate expiration monitoring
Specify the minimum number of days before expiration and to receive alerts if the certificate is not updated.
Body and header content monitoring
Be sure websites respond with a specified HTTP status codes.
Software and applications monitoring
MySQL database
Apache web server
Log files
OS processes
Windows and Linux services
Active Directory
Windows Event Logs
Java Virtual Machine
Network monitoring
Network devices monitoring
Ping, SNMP devices, printers.
Network channel quality monitoring
Packet loss, jitter, latency.
Network interface monitoring
Traffic, packets, errors, discards.
Custom metrics monitoring
Use an arbitrary script or a shell command to implement a custom monitoring scenario. Collect, store and graph the measured data, set thresholds and get alerted about virtually any metrics.
Monitoring via the most used network protocols
ICMP, HTTP/HTTPs, TCP, SSH, FTP, SMTP/SMTPs, IMAP/IMAPs, POP3/POP3s.
Web-based GUI
The application's central monitoring panel interface is available from any computer or tablet device anywhere around the world through a secure connection.
Data presentation and SLA reports
Get the information you need to keep your entire network in top shape through network maps, charts, tables and dashboards.
Multiple infrastructures support
Easily add as many infrastructures and components as you require, and streamline them for different tasks, departments, offices, or clients.
Infrastructure schema view with impact-dependencies modeling
Create meaningful and logical dependencies between network components, such as routers, printers, switches, UPSes, storages, servers, and applications.
How It Works: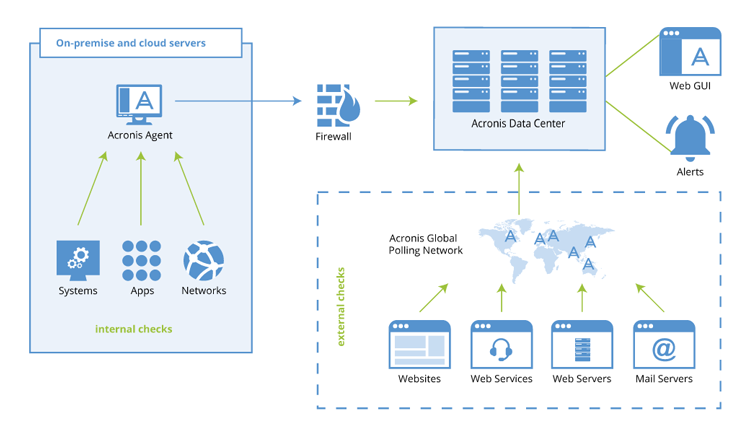 Acronis Monitoring Service supports two types of checks: external (via the Acronis' worldwide polling network) and internal (behind the firewall).
External monitoring is performed remotely using the global monitoring network of Acronis' public agents. With no software to install you are able to ensure your websites, web services and internet-facing devices are up and running smoothly.
For internal monitoring small-footprint native agents are installed on the on-premise or cloud-based servers, thus enabling monitoring of your IT infrastructure (system, network and application metrics) beyond the firewall.
Acronis Disk Director 11 Advanced Server
Acronis Monitoring Service Subscription 1 Year 1-9
*Price per user
#MOAASYLOS11
Our Price: $100.00
Acronis Monitoring Service Subscription 1 Year 10-29
*Price per user. Quantity must be 10 or greater
#MOAASYLOS12
Our Price: $92.00
Acronis Monitoring Service Subscription 1 Year 30-49
*Price per user. Quantity must be 30 or greater
#MOAASYLOS13
Our Price: $85.00
Acronis Monitoring Service Subscription 1 Year 50-69
*Price per user. Quantity must be 50 or greater
#MOAASYLOS14
Our Price: $70.00
Acronis Monitoring Service Subscription 1 Year 70-99
*Price per user. Quantity must be 70 or greater
#MOAASYLOS15
Our Price: $60.00
Acronis Monitoring Service Subscription 1 Year 100+
*Price per user. Quantity must be 100 or greater
#MOAASYLOS16
Our Price: $50.00
Acronis Monitoring Service Notification Bundle 1-3
*Price per user. Quantity must be 1 or greater
#MOBASYLOS11
Our Price: $10.00
Acronis Monitoring Service Notification Bundle 4-9
*Price per user. Quantity must be 4 or greater
#MOBASYLOS12
Our Price: $9.00
Acronis Monitoring Service Notification Bundle 10+
*Price per user. Quantity must be 10+ or greater
#MOBASYLOS13
Our Price: $8.00
Acronis Monitoring Service Subscription 1 Year-Renewal 1-9
*Price per user. Quantity must be 1 or greater
#MOAAHBLOS11
Our Price: $100.00
Acronis Monitoring Service Subscription 1 Year-Renewal 10-29
*Price per user. Quantity must be 10 or greater
#MOAAHBLOS12
Our Price: $92.00
Acronis Monitoring Service Subscription 1 Year-Renewal 30-49
*Price per user. Quantity must be 30 or greater
#MOAAHBLOS13
Our Price: $85.00
Acronis Monitoring Service Subscription 1 Year-Renewal 50-69
*Price per user. Quantity must be 50 or greater
#MOAAHBLOS14
Our Price: $70.00
Acronis Monitoring Service Subscription 1 Year-Renewal 70-99
*Price per user. Quantity must be 70 or greater
#MOAAHBLOS15
Our Price: $60.00
Acronis Monitoring Service Subscription 1 Year-Renewal 100+
*Price per user. Quantity must be 100 or greater
#MOAAHBLOS16
Our Price: $50.00