Acronis Cyber Protect

Modernize your cybersecurity and backup with integrated cyber protection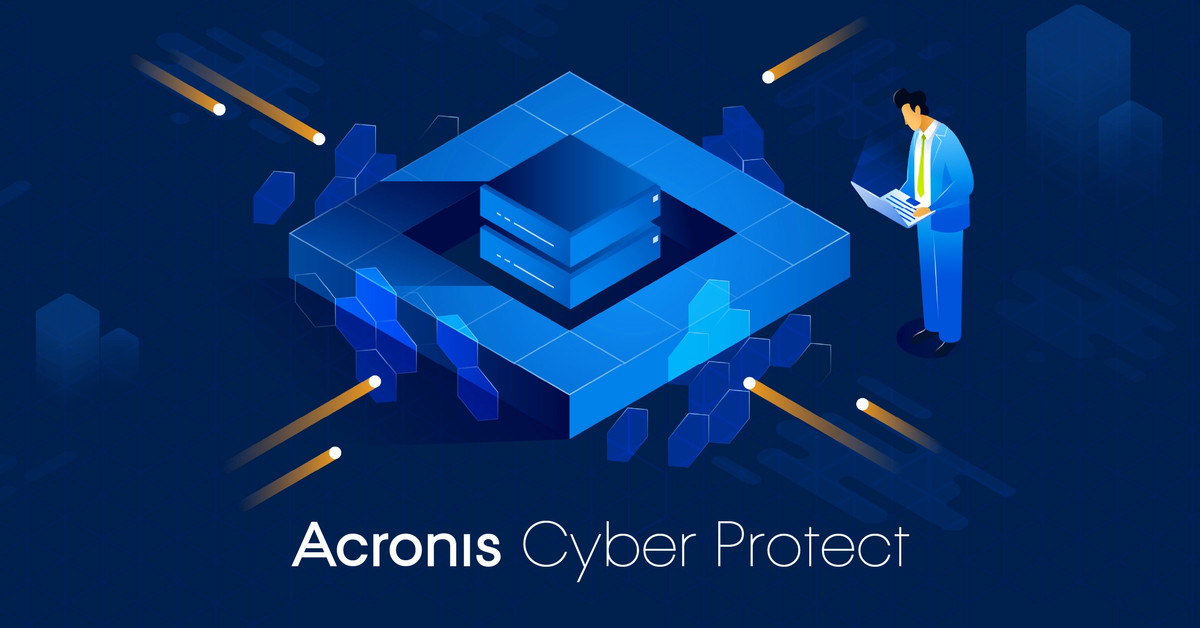 Acronis Cyber Protect
#cyber-protect
Get a Quote!
Cybersecurity and Endpoint Protection
Endpoint protection management: vulnerability assessments and patch management, remote desktop and drive health
Antimalware
Full stack, next-generation AI-based protection against malware, including URL filtering and automated backup scanning
Backup and Recovery
Fast and reliable recovery of your apps, systems, and data on any device, from any incident
Overview:
Avoid downtime, data loss and security breaches at a lower cost
Acronis Cyber Protect is the only solution that natively integrates cybersecurity, data protection and management to protect endpoints, systems and data. Integration and automation provide unmatched protection – increasing productivity while decreasing TCO.

Next-generation cybersecurity
Advanced AI-based behavioral detection engine for zero-day attack prevention

Reliable backup and recovery
Full-image and file-level backup, disaster recovery, and metadata collection for security forensics

Integrated protection management
URL filtering, vulnerability assessments, patch management, and remote management are integrated and automated
Minimize incidents and improve productivity
Eliminate complexity
The traditional stack of endpoint protection products lacks integration and requires much more time for management – maintaining licenses, installing updates and patches, verifying compatibility after updates, and managing multiple policies using a variety of different user interfaces.
Acronis Cyber Protect offers one agent, one management interface, and one license – removing the complexity and risks associated with non-integrated solutions.
Minimize incidents
Traditional antivirus and backup solutions are unable to protect against modern cyberthreats. Antimalware solutions that are not-integrated with backup are unable to recover data and lack the ability to detect threats in a secondary backup copy of data. Backup that is not integrated with antimalware is vulnerable to modern ransomware strains that disable and corrupt backups.
With Acronis Cyber Protect, an AI-based threat detection engine leverages backup data to improve detection rates and avoid false-positives. The integration of advanced antimalware and backup enables the automatic recovery of corrupt data. Backups are protected against attacks on the agent and backup files, ensuring the data is clean. The automatic detection, prevention, and recovery streamline your operations – reducing both the number of support calls and the time spent on each incident – making your team more efficient.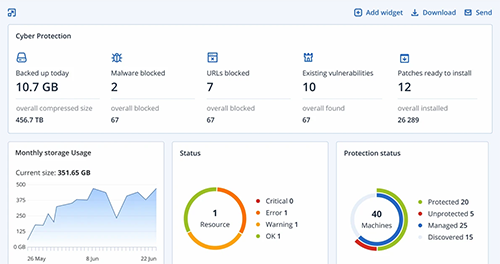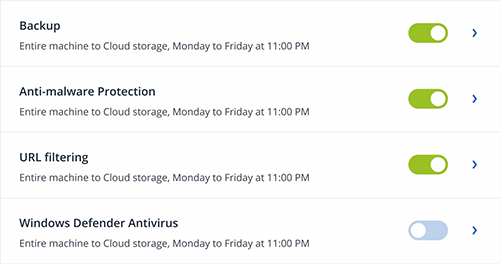 Increase productivity
A complex, non-integrated stack of endpoint solutions requires more time to learn and support, and does not benefit from integration and automation.
Unifying multiple protection technologies into one solution not only increases its reliability, it also decreases the time needed to learn, deploy, and maintain the solution. With Acronis Cyber Protect, you get one integrated solution that delivers complete protection from today's threats – enabling you to streamline management, cut unnecessary administrative time, and lower TCO.
Integration and automation
No matter how great each individual solution might be, a patchwork of system and endpoint protection tools will create gaps in your defenses. Acronis Cyber Protect is a unified approach that eliminates those gaps.
One agent
Increases performance and avoids endpoint/agent conflicts
One license
Simplifies software license management
One vendor
Ensures seamless, fully integrated protection
One backend
Reduces infrastructure needs
One console
Enables faster employee onboarding and maintenance
One experience
Simplifies the education of IT resources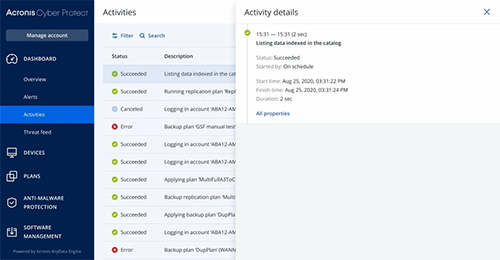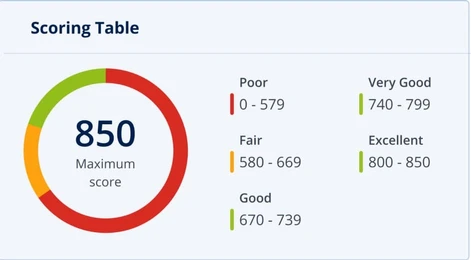 Identify security gaps
The Acronis #CyberFit Score is a free tool that assesses and scores a set of security metrics to identify gaps in your clients' IT environment – and then makes recommendations on how to improve the organization's security posture.
Modern cyber protection must-haves
Every business needs complete cyber protection. Acronis' vision and products are based on balancing the Five Vectors of Cyber Protection, known by the acronym SAPAS.

Safety
Reliable backup copies

Accessibility
Always available data

Privacy
Control over data permissions

Authenticity
Proof that data is original

Security
Protection from modern threats
Features:
Cybersecurity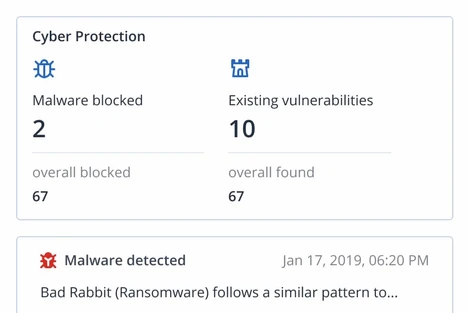 Antimalware and antivirus
Actively protect your data, applications and systems from today's advanced attacks. With Acronis Cyber Protect, you gain extended functionalities of Acronis Active Protection to protect your data in real-time with AI-based static and behavioral heuristic antivirus, antimalware, anti-ransomware, and anti-cryptojacking technologies.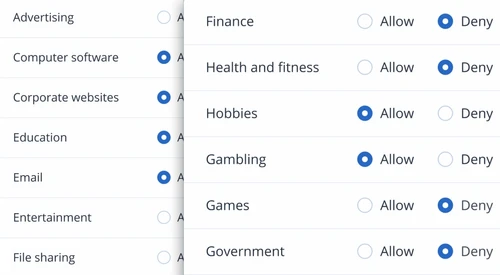 URL filtering and categorization
Achieve compliance and increase productivity by preventing attacks from malicious websites. With advanced URL filtering, you can control website access through a HTTP/HTTPS interceptor, black and whitelists for URLs, and payload analysis for malicious URLs.
Global threat monitoring and smart alerts
Acronis Cyber Protection Operation Centers (CPOC) continuously monitor the cybersecurity landscape and release alerts on potential threats of any kind. Receive real-time alerts on malware, vulnerabilities, natural disasters, and other global events that may affect data protection, so you can prevent them.
Vulnerability assessment
Keep your data safer by identifying and remediating vulnerabilities in your system. With our vulnerability assessment, you can scan your machines for vulnerabilities to ensure that all applications and operating systems are up-to-date and can't be exploited by cybercriminals.
Exploit prevention
Until a patch is applied, your machines are vulnerable. With exploit prevention you can stop and prevent attacks from happening with memory protection, return-oriented programming protection, code injection protection and privilege escalation protection.
Protection for collaboration tools
Collaboration tools like WebEx and Zoom can help an organization become more efficient, but the problem is a lot of these tools are not secure. Proactively protect these collaboration tools with vulnerability assessment, patch management, code injection prevention, and antimalware capabilities.
---
Data protection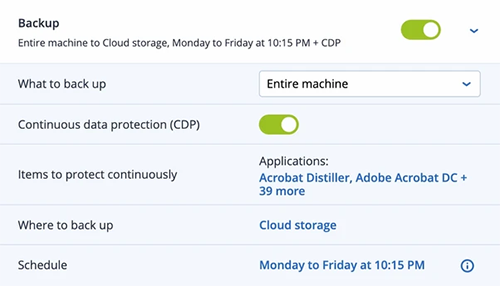 File and disk-image backup
Backup individual files or safeguard your entire business by backing up the entire system as a single file, ensuring a bare metal restore capability. In the event of data disaster, you can easily restore all information to new hardware.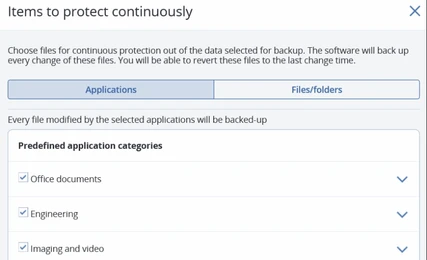 Continuous data protection
Ensure users don't lose the work in-progress by defining a list of critical apps that they are frequently using. Acronis' agent monitors every change made in the listed applications—no matter where the user saves the file – and continuously backs it up. In case the system needs to be reimaged, you can restore the data from backup and apply the latest changes, so no data is lost.
Flexible storage
Balance the value of data, infrastructure, and any regulatory requirements with flexible storage options. Grow with ease using the storage that fits your needs: NAS, SAN, tapes, disks, Acronis Cloud, or any private or public cloud, such as Azure, AWS, or Google.
Any-to-any migration
Acronis stores data in a unified backup format so that you can easily recover to any platform, regardless of the source system. Reduce risk and IT overload by migrating between different hypervisors and to/from physical machines (P2V, V2V, V2P, and P2P) or the cloud (P2C, V2C, C2C, C2V, and C2P).
Acronis Universal Restore
Minimize expensive downtime by restoring Windows and Linux systems to dissimilar hardware, including bare-metal physical, virtual, or cloud environments. By overcoming compatibility issues, Acronis Universal Restore technology ensures quick and easy system migration with a few clicks.
Acronis Instant Restore
Reduce recovery times with bestin-industry RTOs by immediately starting your backup as a Windows or Linux virtual machine directly from storage. Have your VM up and running in mere seconds, while Acronis Instant Restore technology invisibly moves your data to the host in the background.
Variable block-size deduplication
Protect more systems while reducing the impact on disk-storage and network capacity by capturing only the blocks with the changed data since the previous backup. Acronis Cyber Backup deduplication minimizes storage space by detecting data repetition and storing the identical data only once.
Data protection across 20+ platforms
Every system—physical, virtual, or cloud—and all workloads are consolidated to safeguard data across all platforms. Any new application is integrated seamlessly into your existing environment, delivering continuous and comprehensive data protection.
Drive health monitoring
Avoid unpredictable data loss, and proactively improve uptime by monitoring drive health. By using a machine learning on S.M.A.R.T. reports, and various operating system parameters, Acronis Cyber Protect can alert you about a disk issue before it happens. This enables you to take the precautionary measures needed to protect your data.
Anti-malware scanning of backups
Prevent restoring infected files from backups with built-in malware scanning. By scanning full disk backups at a centralized location, Acronis Cyber Protect can help find malware – ensuring users restore a clean, malware-free backup.
Safe Recovery
The OS image or applications in the backup can have vulnerabilities, and can cause continuous reinfection if malware is still active in the network. Patching the machine and applying the latest antimalware definitions allows users to restore the OS image with the latest patches, reducing the chance of a reoccurring infection.
Data Protection Map
Ensure that critical data is protected for compliance reporting, with the data protection map. Get detailed information about stored data and use the automatic data classification to track the protection status of important files. If files are backed up or not, you will be alerted helping you to further protect your data.
App whitelisting based on backups contents
Traditional, global whitelisting does not handle custom applications well. Acronis Cyber Protect scans backups with anti-malware technologies (AI, behavioral heuristics, etc.) to whitelist organizationally unique apps and avoid future false positives.
Forensic data collection
Maintaining compliance and running internal investigations can be an expensive process. With the Forensic Mode built-into Acronis Cyber Protect, you can simplify future analysis by collecting digital evidence – like memory dumps and process information – from disk-level backups.
Tape Multiplexing
Maximize the effective use of tape drives during backup and recovery by allowing multiple clients to back up to a single tape drive simultaneously. Use this method when a tape drive is faster than the backup source as it allows the tape drive to keep spinning, avoiding writing interruptions.
Tape Multistreaming
Utilize all available tape devices on your system by allowing the backup of a single client to run simultaneously to multiple tape drives. Use this method when you have multiple destination devices and would like a single backup job to utilize them all simultaneously at the time of backup.
---
Endpoint protection management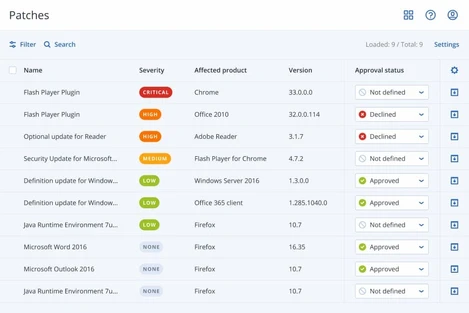 Patch management
Software patches and updates are essential to securing a business environment and can fix known vulnerabilities before they become issues. With patch management support for Microsoft and third-party software on Windows, you can easily schedule or manually deploy patches to keep data safe.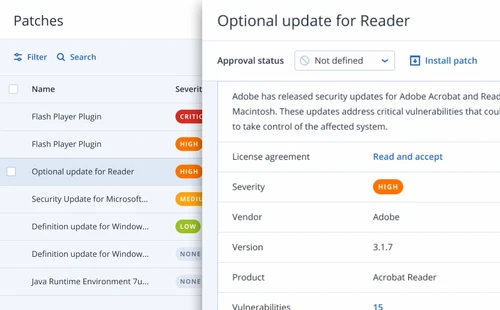 Fail-safe patching
A bad system patch can render a system unusable. Before the latest patches are implemented, an automatic image backup is performed so you can easily restore and rollback to a working state if there is an issue.
Windows Defender antivirus or Microsoft Security Essentials management
Eliminate complexity while ensuring that Windows Defender is properly configured. With Acronis protection plans, you can control Windows Defender Antivirus and Microsoft Security Essentials detection events and enforce settings across multiple machines.
Auto discovery and remote agent installation
Simplify process of installing multiple agents at once – in the cloud and on-premises. With network-based and Active Directory-based discovery you can easily remotely install and apply protection plans – helping you keep your data safe.
Flexible monitoring and reporting
Simplified, at a glance reporting helps streamline your operations while giving you the insight you need to successfully protect your data. Customize your dashboard's widgets to view reports on drive health, active alerts, missing updates, and more – enabling you to quickly identify and remediate problems.
Remotely wipe devices
Instead of letting business-critical data get into the wrong hands, you can now remotely wipe compromised or missing Windows devices. Built into Acronis Cyber Protect, you can successfully prevent data from being deleted by disgruntled employees or being accessed from lost or stolen devices.
Remote desktop and assistance
Employees working from home may need access to files or apps on their work machines, and they might not have a configured VPN. Share a secure link with end users so they can remotely access their machine.
Supported Systems:
Protect more workloads on more platforms
Physical
Windows Server
Windows Server Essentials
Linux
Applications
Microsoft Exchange
Microsoft SQL Server
Microsoft SharePoint
Microsoft Active Directory
Oracle Database
Virtual
VMware vSphere
Microsoft Hyper-V
Scale Computing HC3
Citrix XenServer
Red Hat Virtualization
Linux KVM
Oracle VM Server
Mobile
Cloud
Microsoft 365
Google Workspace
Azure
Amazon EC2
Endpoints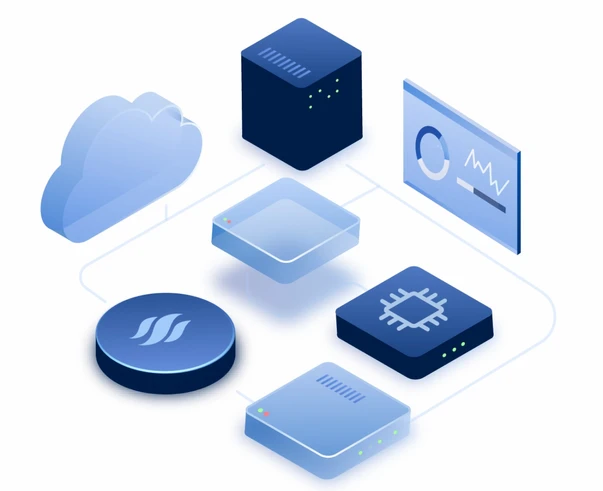 Pricing and product availability subject to change without notice.
This product is available as instant electronic delivery upon purchase.
Acronis Advantage Premier - Offers 24 x 7 support services available via phone, chat, and email. Acronis Advantage Premier customers receive priority support in the event of a business-critical system error (severity A), customers will receive the initial response within one hour. The first year of service is included with the Acronis line of corporate products.
Acronis Products
Acronis Products
Acronis Cyber Protect
#cyber-protect
Get a Quote!