Acronis Cyber Protect Cloud

Modernize your clients' security and backup with integrated cyber protection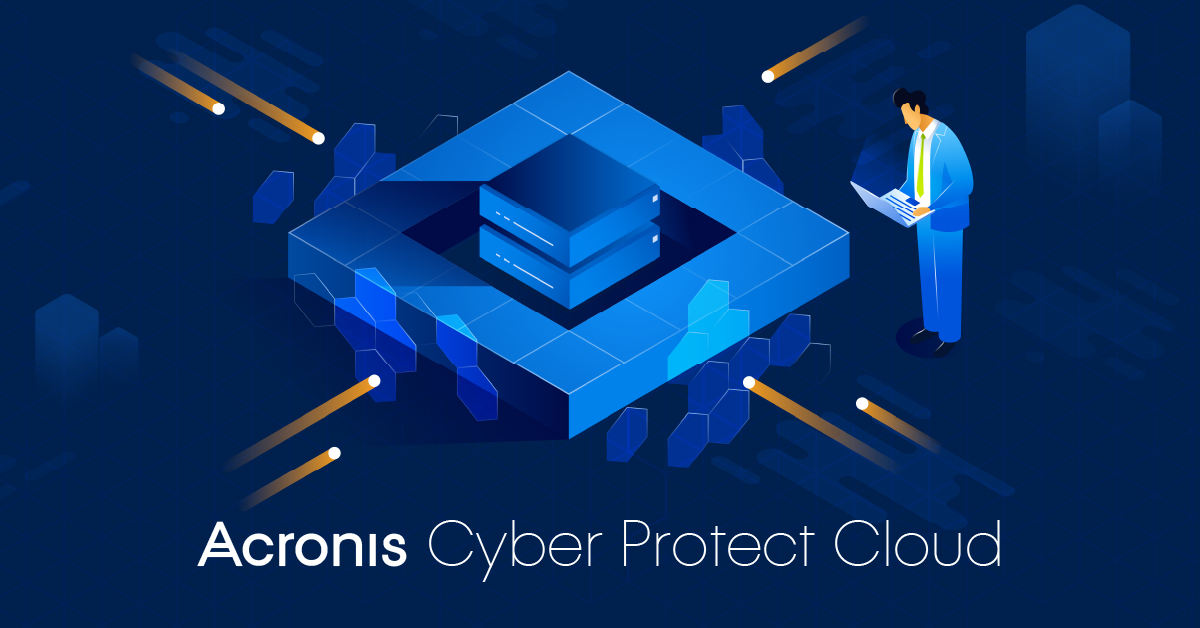 Acronis Cyber Protect Cloud
#cyber-protect-cloud
Get a Quote!
The world's best backup and recovery
Full-image and file-level backup and recovery to safeguard workloads on more than 20 platforms – with near-zero RPOs and RTOs.
Enhanced with essential cyber protection at no cost
Аdvanced AI-based behavioral detection engine stops malware, ransomware, and zero-day attacks on client workloads.
With protection management built for MSPs
Integrates data protection, cybersecurity, and endpoint management into a single solution with centralized management. Seamless integration with RMM and PSA systems.
Overview:
Prevent client downtime and data loss with essential cyber protection
Acronis Cyber Protect Cloud is the only solution that natively integrates cybersecurity, data protection, and management to protect endpoints, systems, and data. This synergy eliminates complexity, so service providers can protect clients better while keeping costs down.
The world's best backup and recovery
Full-image and file-level backup and recovery to safeguard workloads on more than 20 platforms – with near-zero RPOs and RTOs.
Enhanced with essential cyber protection at no cost
Аdvanced AI-based behavioral detection engine stops malware, ransomware, and zero-day attacks on client workloads.
With protection management built for MSPs
Integrates data protection, cybersecurity, and endpoint management into a single solution with centralized management. Seamless integration with RMM and PSA systems.
Strengthen your security services and increase profitability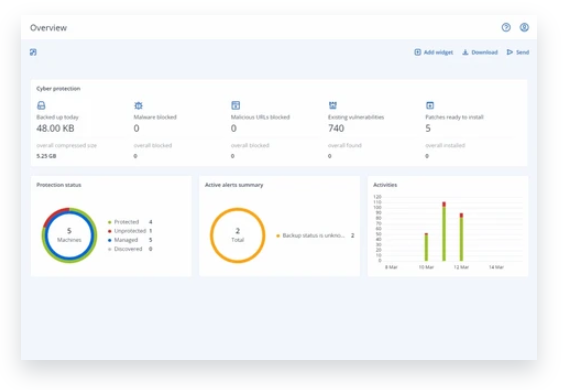 Reduce Risk - Secure all client workloads with next-generation cyber protection
Minimize your clients' security risks with integrated cyber protection covering 100% of their endpoints and unlock unique capabilities not available from your current security vendor. Rise to the challenge of 2021's cyberthreats and greatly reduce security incidents and breaches. Leverage the solution that's a leader in independent testing (VB100, AV Test, AV-Comparatives, ICSA Labs).
Increase Profitability - Boost your monthly recurring revenue
Strengthen your security services and unlock easy upsell and cross-sell opportunities built on one solution that includes cybersecurity, backup and recovery, file sync and share, and security management toolkit. Reduce churn by demonstrating your cyber protection results to clients via integrated reporting. Build client loyalty and trust with our pre-built education and marketing materials.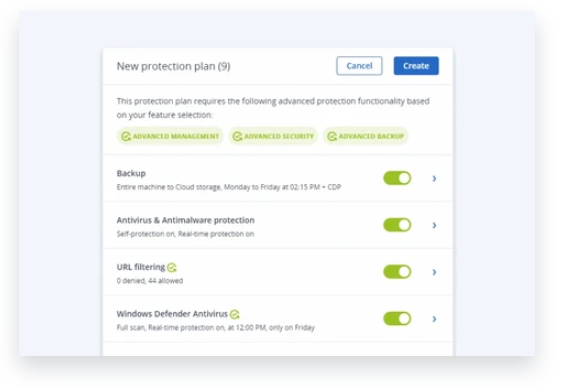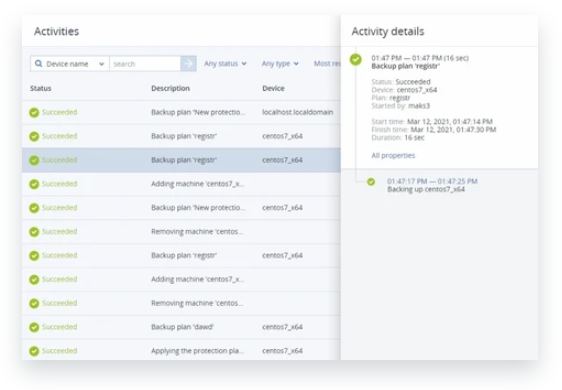 Lower costs - Cut cyber protection costs by up to 50%
Unlock cost savings by consolidating vendors instead of purchasing multiple point solutions from multiple vendors. Simplify management, improve workflow automation, and reduce the security risks caused by using a patchwork of tools. Harness the power of one with an integrated solution: one license, one agent, controlled and deployed through one intuitive console.
---
Enhance your backup service with essential cyber protection at no cost
Gain a unique competitive advantage and increase your profitability with essential cyber protection functionalities that cover all workloads. Acronis will not charge you if you don't consume backup or file sync and share storage.
Cybersecurity
Stay ahead of modern cyberthreats with award-winning anti-malware enhanced with antiransomware capabilities focused on zero-day threats. Prevent data leaks via local channels.
Backup and recovery
Minimize data loss across your clients' infrastructure and workloads with the best backup and recovery technology, available in consumption-based or perworkload licensing models.
Management
Centralize your protection management and provision endpoints in minutes. Remotely assist clients and assess system vulnerabilities and security gaps. Increase visibility with built-in monitoring and reporting.
Disaster recovery (DR)
Allow clients on DR-enabled tenants to establish secure connection to the corporate network with their personal devices, or test failover in an isolated network environment.
File sync and share
Increase productivity by enabling your clients to create and securely share corporate content from anywhere, at any time, and on any device. Only get charged for the storage you use. Leverage notarization and e-signature for data validation.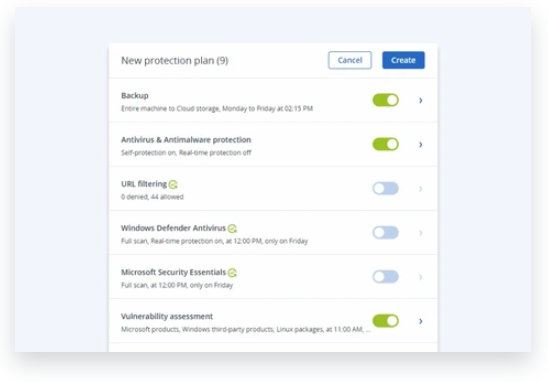 ---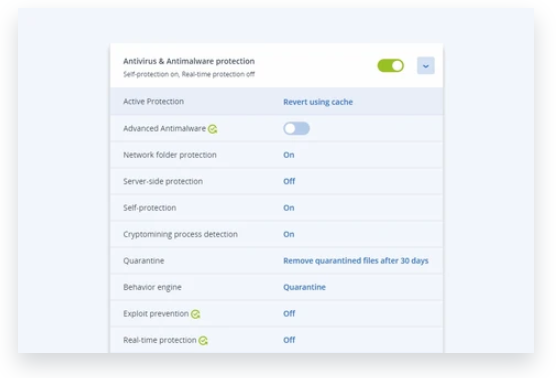 Provide anti-malware protection at no cost
Our award-winning cybersecurity technology, Acronis Active Protection, is now better and included in Acronis Cyber Protect Cloud free of charge
Enhanced with anti-malware protection
AI-based static and behavioral analysis
Award-winning anti-ransomware technology
Best-of-breed protection against zero-day ransomware
Unmatched self-defense against ransomware
Leader in defending against cryptojacking
---
Deliver the best backup and recovery on the market
Protection for more than 20 workload types: physical, virtual, cloud, and mobile
Pricing based on storage consumption or per workload
Extensive backup sources: file, disk, mobile, system-state, application, NAS and network shares, ESXi configurations
Multiple backup storage options: Acronis Cloud, public and private cloud, local network storage
Recovery capabilities that can instantly run backup files as a VM or recover to dissimilar hardware
Secure by design: anti-ransomware protection and encryption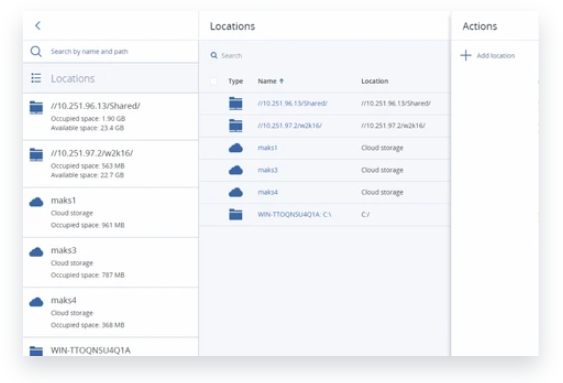 ---
Expand your services with advanced protection packs
Add other powerful components to strengthen your services even further with advanced protection packs and unique cyber protection capabilities. Control your costs by paying only for the functionalities your clients need. Advanced packs include:
Advanced packs include: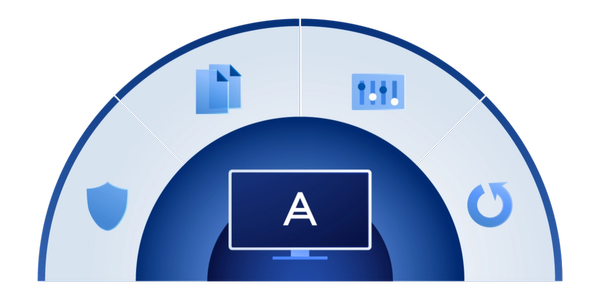 Enhance your security services with integrated cyber protection that includes full-stack anti-malware. Increase your detection rate and responsiveness to the latest cyberthreats. Extend cyber protection to web browsing, backed-up data, the recovery process, and exploit prevention. Enable investigations by capturing forensic data in backups.
Full stack anti-malware
URL filtering
Exploit prevention
Strengthen your data protection services by ensuring clients never lose data, even between scheduled backups. Extend backup capabilities to SAP HANA, Oracle DB, and application clusters. You can also gain visibility for the protection status of all data across your clients' infrastructure.
Continuous data protection
Data protection map
Scheduled backup reports
Streamline vulnerability management and promptly close gaps in your clients' IT infrastructure through patch management. Gain visibility into your clients' software assets and data protection to ease daily tracking and planning tasks, and improve clients' uptime by monitoring disk drives health.
Patch management
Fail-safe patching
Disk drive health monitor
Get clients back to business in mere minutes when disaster strikes by spinning up their systems in the Acronis Cloud and restoring them anywhere, ensuring immediate data availability. Make disaster recovery painless and increase efficiency with orchestration, runbooks, and automatic failover.
Disaster recovery orchestration
Production failover
Site-to-site VPN
Features:
Acronis Cyber Protect Cloud Standard
The best backup and recovery enhanced with essential endpoint protection capabilities and security management toolkit for centralized administration and monitoring.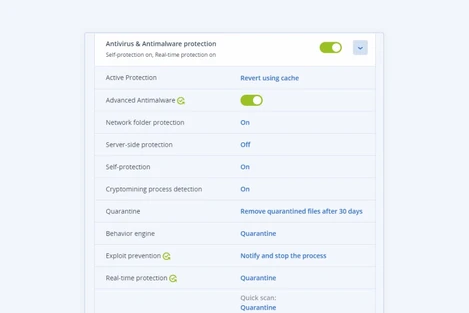 Acronis Active Protection
Protect your clients from modern cyberthreats. Our award-winning anti-ransomware technology with built-in automatic recovery from ransomware is now enhanced with AI-based static and behavior anti-malware analysis focused on zero-day threats.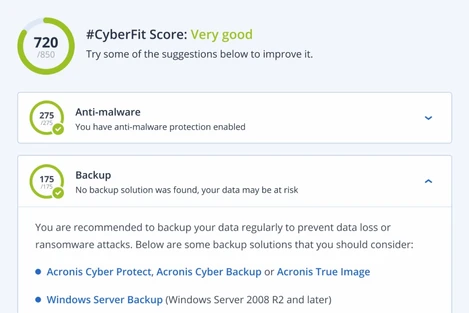 #CyberFit Score
Increase your clients' security posture by addressing the gaps in their IT environment. Acronis #CyberFit Score assesses and scores a set of security metrics to identify gaps and then provides recommendations for how you can improve their overall security.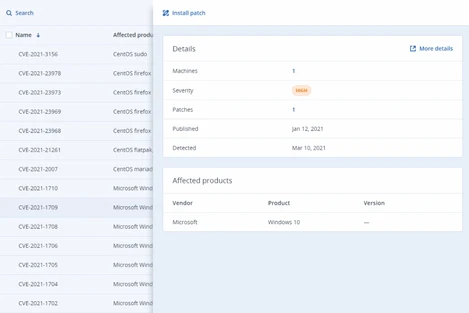 Vulnerability assessments
Identify and close the security gaps in your clients systems. You can scan client machines for vulnerabilities to ensure that all applications and operating systems are up-to-date and can't be exploited by cybercriminals.
Monitoring and reporting
Simplified, at-a-glance reporting helps streamline operations while giving your technicians the insight they need to support your clients. Customize your dashboard's widgets to view a wide range of reports – enabling you to quickly identify and remediate problems.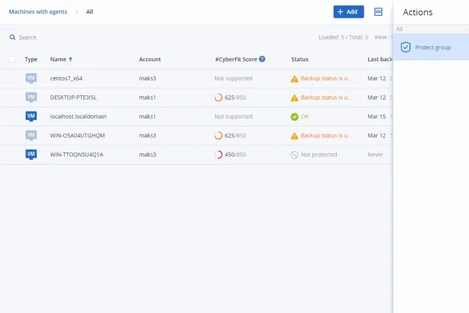 Centralized protection plans and group management
Ease administrative efforts with the ability to group manage multiple workloads and centralized protection plans that include all security configurations that can be applied to multiple endpoints across your client's organization.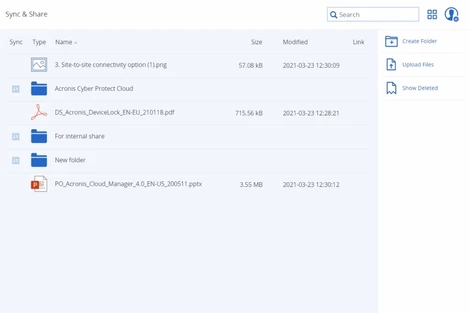 Secure file sync and share
Ensure client productivity by offering convenient, secure file sync and share capabilities. Users can securely create, edit, and share content using their own devices with pay-as-you-go pricing.
Notarization
Give clients proof of their data's authenticity by giving them the ability to notarize any type of file, which generates a certificate with immutable, publicly verifiable proof of the file's timestamp, integrity, and authenticity. Based on a pay-as-you-go pricing model.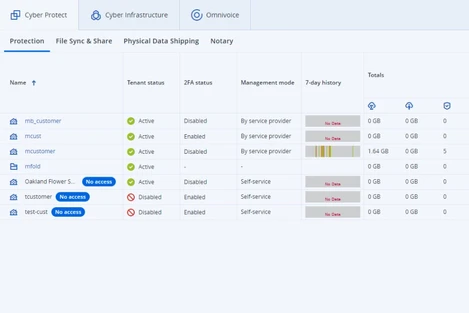 Multi-tier and multi-tenant management
Count on optimal administrative efficiency: create client or partner accounts in seconds, customize unique offerings, and manage quotas, features and administrative privileges using vertical grouping.
Protection for remote workers
Minimize the rising risk of cyberattacks for remote workers with multiple protection capabilities – including prioritized patching and protection for mission-critical telecommute apps (Zoom, WebEx, MS Teams, Slack, Skype, TeamViewer), remote device wipe, and secure desktop remote connectivity.
Multiple backup types
Back up disks/volumes (with all information required for the operating system to boot), individual files or folders, system states (for Microsoft Windows systems), or ESXi configurations.
Flexible backup storage options
Comply with the requirements of different clients with flexible storage options. Back up to Acronis-hosted cloud storage, public clouds such as Google Cloud Storage or Microsoft Azure, your own cloud storage, or local networked storage.
Device and port control
Strengthen data security and prevent leakage of sensitive information via local channels with granular, context-aware controls over user access to locally connected devices and ports, and data operations related to them – even for virtulized sessions.
Clipboard control
Prevent data leakage in its earliest stage by controlling data transfers between application and documents. Allow or block user access to objects of different data types copied to the clipboard, even for redirected BYOD devices in virtualized sessions.
Device control: support of encrypted removable media and screenshot capture access
Eliminate the risk of data leaks with encrypted removable media and screenshot capture control. This enables users to keep sensitive information within their organization – should a removable device get in the wrong hands or prevent screenshots from being copied to the clipboard. Keeping your clients' sensitive data safe and secure.
Acronis Instant Restore
Cut RTOs to as little as 15 seconds with a built-in capability to restore a system by booting it as a virtual machine directly from the backup, without moving any data.
Acronis Universal Restore
Reduce the time spent on recovery tasks. Acronis Universal Restore makes recovery to dissimilar hardware faster by detecting the machine type and auto-installing appropriate drivers for the hardware.
Google Workspace data protection
Safeguard client data stored in Gmail, Drive (including Team Drives), Contacts, and Calendar by backing it up to ensure fast, reliable recovery.
Complete Microsoft 365 protection
Protect data in Microsoft Exchange Online, OneDrive for Business, Microsoft Teams and SharePoint Online with comprehensive cloud-to-cloud backup and restore.
Backup encryption
Maintain regulatory compliance and strengthen data protection by securing your backups with AES-256 data encryption for data in transit and at rest, so only you can access the data.
Deduplication
Minimize storage requirements by detecting data repetition in backups and not storing identical data more than once. Deduplication also reduces network load as duplicate data is not even transferred over the network to the backup storage.
Auto discovery and remote installation
Simplify the onboarding process by installing multiple agents at once – in the cloud and on-premises. With network-based and Active Directory-based discovery, your technicians can easily install and apply protection plans remotely – helping to keep your clients safe.
Predefined protection plans
Protect your clients' remote and office workers quickly and easily by choosing one of three preconfigured protection plans. These options save you time while ensuring you that your clients' workloads and environments are protected.
Remote desktop assistance
Enable secure, off-site access to machines to ease remote work for users or provide technical assistance to clients with built-in remote desktop capabilities.
Hardware inventory collection
Save time and effort with an up-to-date hardware inventory. Discover all hardware assets with automatic and on-demand scans. Create hardware inventory reports, browse and filter records by multiple criteria and auto-delete them once a machine or tenant is removed.
Electronic signing
Strengthen process compliance by allowing clients and their third parties to e-sign documents with publicly verifiable proof of the timestamp and authenticity of the signature. Based on pay-as-you-go pricing.
Test failover in isolated network environments
Verify the integrity and efficiency of disaster recovery plans by executing them via the web console in an isolated network environment, without disrupting other processes.
Point-to-site VPN connection
Enable clients to quickly and easily access files from the local site or the cloud. With the Business VPN feature, clients on DR-enabled tenants can establish a secure connection to the corporate network with their personal devices so they can access the data they need.
Firewall policies management
Easily manage firewall policies on your clients' behalf for their disaster recovery servers through the Acronis Cyber Protect Cloud console. This enables you to simplify the support process and manage outbound and inbound firewall policies.
Straightforward pay-as-you-go pricing
Meet the dynamic needs of your clients with a 100% pay-per-use licensing model and free functionalities. Per-GB and per-seat/per-device licensing types are available.
Integration with PSA and RMM systems
Deliver services instantly using native integrations with ConnectWise (Automate, Manage, Control), Atera, Autotask, Kaseya, cPanel, HostBill, CloudBlue, Plesk, and WHMCS.
Integration with custom systems
Assimilate systems by leveraging a powerful RESTful management API or enable integration via the Acronis Cyber Backup Cloud Application Packaging Standard (APS).
Supported Systems:
Operating systems and environments
Windows
Windows 7 and later
Windows 2008 R2 and later
Linux
Linux with kernel from 2.6.9 to 5.1 and glibc 2.3.4 or later
MacOS
OS X Mavericks 10.9, OS X Yosemite 10.10, OS X El Capitan 10.1, macOS Sierra 10.12, macOS High Sierra 10.13, macOS Mojave 10.14, macOS Catalina 10.15
Mobile
Android 4.1 or later
iOS 8 or later
Microsoft applications
Microsoft SQL Server 2019, 2017, 2016, 2014, 2012, 2008 R2, 2008, 2005
Microsoft Exchange Server 2019, 2016, 2013, 2010, 2007 Microsoft SharePoint 2013
Microsoft SharePoint Server 2010 SP1, Microsoft SharePoint Foundation 2010 SP1, Microsoft Office SharePoint Server 2007 SP2, Microsoft Windows SharePoint Services 3.0 SP2
Hypervisors
VMware vSphere 7.0, 6.7, 6.5, 6.0, 5.5, 5.1, 5.0, 4.1
Microsoft Hyper-V Server 2019, 2016, 2012/2012 R2, 2008/2008 R2
Microsoft Windows Server 2019, 2016, 2012/2012 R2,2008/2008 R2 with Hyper-V
Microsoft Windows 10, 8/8.1 (x64) with Hyper-V
Citrix XenServer 7.6-4.1.5
RHEV 3.6-2.2, RHV 4.1, 4.0
Oracle VM Server 3.4, 3.3, 3.0, Oracle VM VirtualBox 4.x
Nutanix AHV 20180425.x-20160925.x
Linux KVM 5.3 - 8
Proxmox virtual environment 5.3 - 8
Virtuozzo 6.0.10, 6.0.11, 6.0.12, 7.0.13, 7.0.14
Virtuozzo Infrastructure Platform 3.5
Pricing and product availability subject to change without notice.
This product is available as instant electronic delivery upon purchase.
Acronis Advantage Premier - Offers 24 x 7 support services available via phone, chat, and email. Acronis Advantage Premier customers receive priority support in the event of a business-critical system error (severity A), customers will receive the initial response within one hour. The first year of service is included with the Acronis line of corporate products.
Acronis Products
Acronis Products
Acronis Cyber Protect Cloud
#cyber-protect-cloud
Get a Quote!